No breakfast is no solution. Got it. Anyway I'm more the weekend-only-breakfast-type of person. Enjoying breakfast either at home or in one of my favourite breakfast spots in town. I have to admit that I usually don't have breakfast. At least during the week. Not really healthy, I know. But I love to sleep a little longer in the mornings, so breakfast fell by the wayside. That's why I enjoy having breakfast at the weekend a looooooot.
When I stay at home I actually celebrate it. Putting all things yummy on the table that my fridge and kitchen offer. Fresh fruits, crispy bread, super stinky cheese (love it!), eggs in all kind of variations, porridge, freshly squeezed juice, hot brewed jasmin tea and homemade jam. Ah, I can hear my hungry stomach while writing these lines… And what I love most about weekend-breakfasts is reading the weekend edition of Süddeutsche Zeitung while sipping on my juice. Simply delicious.
But when I don't have the time (or when I'm not in the mood) for preparing a big breakfast I have some special places that I really love to go. Here are four of them.
I love it. It's so beautifully located. Actually in the basement of the stock exchange building. But what is really mentionable is its neighbourhood to the outstanding florist Lederleitner. Hansen shares the basement with lots and lots of stunning flowers and interior design pieces. This makes a truly unique atmosphere. And it smells wonderfully. Foodwise I fell in love with the truffled scrambled eggs and a sweet porridge-kind-of-thing made of semolina (typical Austrian by the way!).
This small café is simply cute. It's so lovely decorated and furnished. All white, sky blue (that's actually the meaning of "Himmelblau") and light pink. You instantly feel comfy and welcome. The location is also very nice – in the middle of Kutschkermarkt, a daily market (farmer's market is on Fridays and Saturdays only) in the 18th district. The guys at Himmelblau buy their vegetables directly from the market and all their cakes & cookies are homemade – freshly baked every day. For breakfast they offer all kind of goodies and combos like the oriental or the garden breakfast.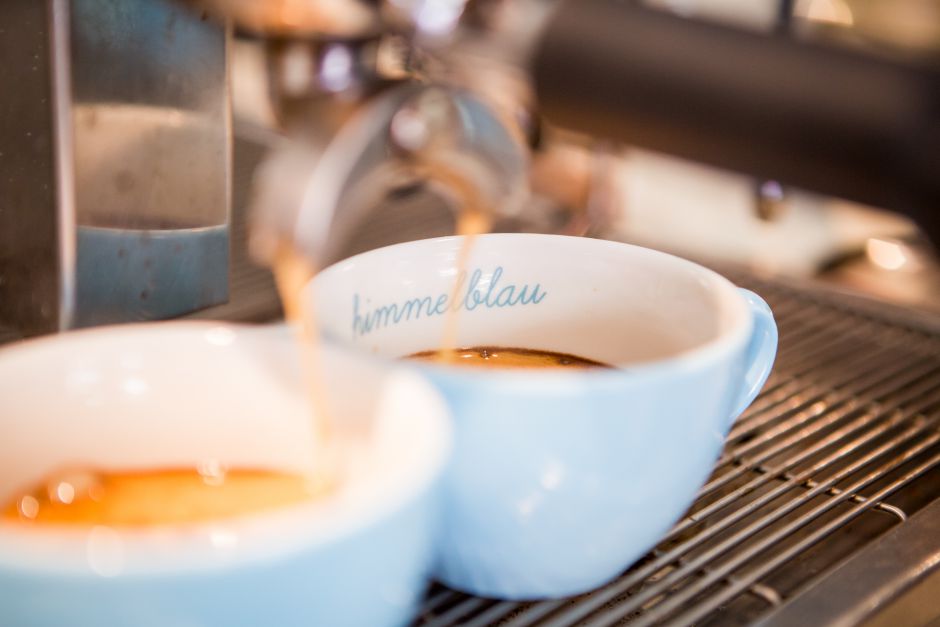 The Halle café and restaurant is an oldie but goodie. And its loved by a lot of people – so it really gets crowded at the weekend. Be sure to reserve a table. It's located in the center of Museumsquartier. Still one of Vienna's hipster-spots although it's not a newcomer. What is lovable about the Halle is its vibrancy. It's always bustling there. Compare it to a beehive if you like. You won't ever be there alone. And what else? Ah, yup, breakfast is really nice. I love the "Healthy Breakfast" with porridge, avocado and  soft-boiled egg.
My favourite newcomer regarding breakfast spots in Vienna. The petite Marctstandl is located at the Meidlinger Markt and is specialized in vegan and vegetarian food. You can also have a superfood breakfast. The bread is either homemade (superfood bread!) or comes – freshly baked – from a another market stand of Meidlinger Markt. All food is organic and seasonal. And most of it is homemade in the small kitchen like the chia-fruit-jam or the superfood-granola. What I especially like about the Marctstandl? It's offbeat, colourful and its owner is a truly free spirit.
Still hungry? Check out more breakfast spots in Vienna in our Top 5 list.
All pictures © Himmelblau/Florence Stoiber